There is number of moralistic guidance available conveying the importance of developing a mobile app and strong mobile presence.

According to a

research

, about 60% of local searches conducted on mobile are converted into buying consumers within an hour.

Another research

also states that Starbucks has conducted 16% of their financial transactions with their app alone.

It is obvious that the restaurant's mobile app development is an imminent and big trend. However, the actual query is will it be worth the investment for your restaurant business?

Here in this blog, we are depicting 5 reasons along with real-life examples that will aid you to estimate the prospective revenue and consumers that a restaurant mobile app can offer you. This will definitely help you to make a precise decision for your restaurant business.

Improved On-Site Service

Even if

developing a restaurant mobile app

is generally about furnishing consumer and their experience, utilizing the same one can greatly perk up on-site service and the reviews for it.

With a restaurant mobile app, your staff will be able to spot a new order at the instant it comes in and gets it ready for instant carry out. Your customers will have to stay for only a few minutes in your restaurant and soon will take away their prepared food, emptying your restaurant space for other usual customers who are looking for a seat. An additional benefit is it accelerates order fulfillment process.

As per the GrubHub experience which is a food ordering app, the order accomplishment from a phone conversation requires two minutes whereas one of their mobile orders takes only 45 seconds which results in a much streamlined and faster turnaround pickup experience.

Location-Based Deals

Apple's iBeacon is being used in restaurants effectively. Restaurants can put iBeacon inside and around its location which facilitates to send push notifications and deals to individuals in the physical proximity of their location to attract them towards the restaurant in meantime.

The best example we could give here is the Bookatable app which uses beacon-based technology for their listed London restaurants, to send push notifications to the app users who are within a 50-meter radius of one of these restaurants.

In such way, they were able to reach the potential customers who might want to get delicious food, but had no exact idea where to go.

Loyalty & Referral Programs

As per the research report, about 65% of customers might be willing to download your restaurant's app if you offer exclusive deals frequently, and about 80% of those customers might come back to your restaurant to get the benefits.

Ahead of this, you can also encourage the app users to refer your restaurant service to their family and friends by offering credit and points based on a number of people they refer your restaurant and arrive to for purchasing. Starbucks app is the best example of this, as it has cleverly and simply stated the different reward programs.

SEE ALSO: Top 5 Food Delivery Apps Of 2019Easy Access to Menu

The research conducted by Chadwick Martin Bailey states that 62% of consumers are less likely to stay in your restaurant if they are unable to easily spot your menu list on their mobile phone.

Thus, it has now become essential to have a restaurant mobile app, which showcases your specialties and detail menu. Also, you need to ensure that the menu access is easy.

Steak N Shake app has the menu list as a main navigation item on the bottom right side which makes sure that users will be able to instantly get it without the need of putting extra efforts.

Social Sharing

One of the beneficial aspects of restaurant mobile app is to gather more reviews after a customer leaves with contentment.

Specifically if are offering ordering, reservations, or payments with your restaurant mobile app, you can decide to set a timer in order to ask customers to share their experience on social media or put a review on one of your online profiles.

Getting positive experiences on social media from your customers is the best approach to enhance your restaurant popularity and build a social proof of your business. This leads to boost your status in the market.

Conclusion

Although it seems like

Mobile app development

and app marketing is being utilized by small restaurants and businesses, about 95% of restaurants didn't have a mobile app a year before. Consequently, this indicates that if you determine to build one, you've acquired the advantage to become one of the top 5% of restaurants in your region.

​

Have you decided to make a mobile app for your restaurant? Contact us to share your

app ideas

and we will assure you to provide most trending app development solutions that will lead you in the huge app market.
Powered by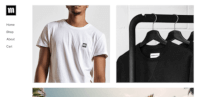 Create your own unique website with customizable templates.